Win Prizes from The Bozzuto Group at Taste of DC!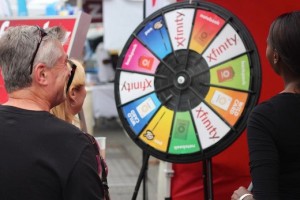 This weekend, The Bozzuto Group will be participating in Taste of DC! For those who don't know, Taste of DC is a multi-day culinary and cultural event that spans over 5 blocks of Pennsylvania Ave full of restaurants, great beverages, and fantastic entertainment packed with fellow Washingtonians and visitors.
This year, 10 of our local Washington, DC properties will each be raffling off $100 gift cards to some of the best restaurants in the area! To enter, all you have to do is stop by our tent this weekend (October 12 and 13) between the hours of 12pm and 7pm.
Entrances are located at 11th St & E St and at 14th St & Pennsylvania Ave. All pre-purchased tickets must be redeemed at the 11th St entrance. If you are purchasing tickets when you arrive, you can purchase them at either entrance. Below are the list of Bozzuto properties and restaurants you can win prizes from. Hope to see you there!
1.       City Market at O (Etete)
2.       The Apartments at CityCenter (Notti Bianche)
3.       Flats 170 (Sprinkles Cupcakes)
4.       Flats 130 (The Oceanaire Seafood Room)
5.       Palette at Arts District (Wicked Waffle)
6.       Rhode Island Row (Central Michel Richard)
7.       Newseum Residences (The Source)
8.       The Lexington (Cedar)
9.       Allegro (Thai Tanic)
10.    Monroe Street Market (&pizza)