It's The People That Make MSM: The Exclusive Interview with David Raley
When you live at Bozzuto's luxurious D.C. community of Monroe Street Market, there's a LOT to love. From lush features to unbeatable amenities, it's basically a 24/7 comfort zone that's close to some of D.C.'s premier dining and retail.
However, it's the people of Monroe Street Market that provide this unparalleled level of service to the residents. That's why we're thrilled to bring you the first post in our upcoming MSM Interview series!
Here you'll meet the General Property Manager of Monroe Street Market, David Raley. A D.C. resident by way of Alexandria, VA and Fort Sill, OK, he's the man with the plan at MSM. Read on for a look behind-the-scenes, a heads up to some of the awesome plans MSM has for Brookland, and how he keeps it all running!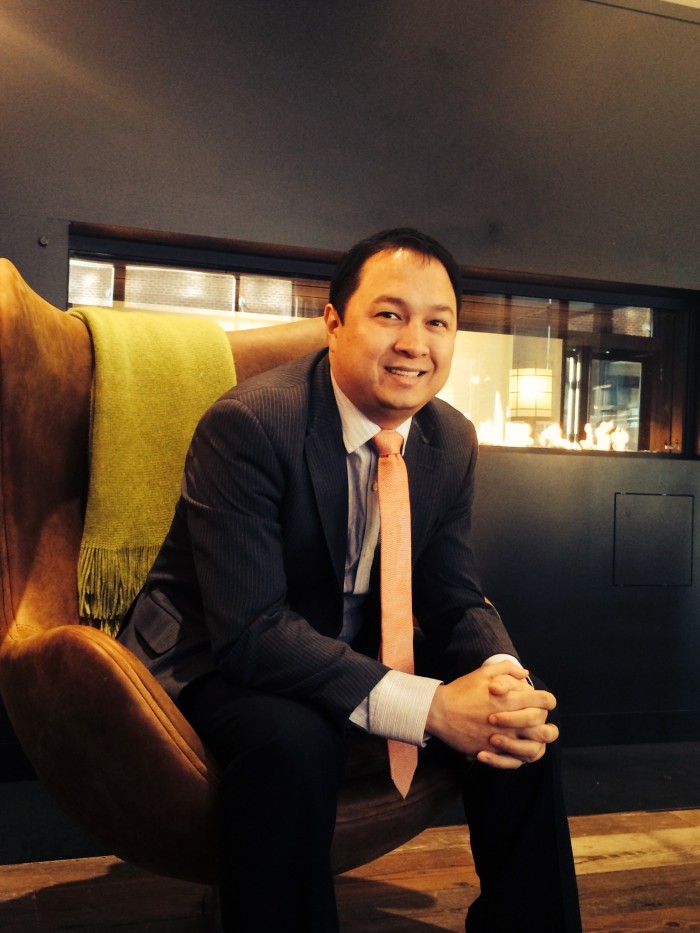 What brought you to D.C.? 
Well, I've lived in the D.C. area for some time now. I stay because there are so many layers to the city. There is so much to do and so much to get involved with. I don't see how anyone could every get bored with this city. If you did, I would suggest that you find a way to give back to D.C. and new doors will open for you, I guarantee it.
How did you start working with Bozzuto? 
After working with a large public company and a very small private firm in real estate, I became very excited about a project that came up in Arlington, VA with Bozzuto Management Company. I was excited because I wanted to work within an organization that wasn't too big, but not too small as well, so Bozzuto was a great fit for me. I'm glad they thought so too!
You've been with Bozzuto since 2007 and Monroe Street Market since 2012. What are some of the changes to the D.C. community that you've seen over the years? 
I remember when walking down areas like at 14th and P Street in NW wasn't one of the brightest things you could do. But today, if you haven't walked down these same streets, you haven't seen a modern day real estate success story in D.C.
The city landscape has changed a lot. The influx of luxury condo buildings into the market years ago forced these same condo owners to move into luxury rental buildings as they sold off their homes for whatever reasons. But because they once owned these high-end $800K plus one bedroom homes, they expected the same level of finish in their rental home. DC Developers heard this need and responded with a supply of some of the coolest rental housing in the country.
With finishes and amenities better than the next, it's very interesting to have my job where I have the opportunity to see all the new developments coming online to compete in the market.
There are tons of dining options at Monroe Street Market like &pizza, Potbelly Sandwich Shop, Brookland Pint, and more. Where's your favorite place to grab a bite and enjoy the neighborhood?
Okay, well I have to be honest – I've eaten at all these establishments countless times. But my favorite place right now is Brookland Pint. It could be because it's the newest, but I have to admit that their fried green tomato sandwich is one of the best I've ever had. I was turned onto it by a resident here at MSM and I couldn't be happier that she did!
But a close second has to be &pizza because it is hard to beat their mushroom truffle sauce. As a bonus, I do have to add that getting a breakfast crepe at the Farmers Market with an iced coffee is something I look forward to every Saturday morning.
What sets MSM above the rest of the D.C. apartments in the area?
I get this question a lot and I am glad I do, because the answer isn't on the top layer. You have to experience it to really know why MSM or living off the Brookland/CUA Metro is such a cool experience. There are a number of reasons, but I will just hit a few:
A.) Any time you incubate or support a large artist community within a neighborhood, you find a breath of ever changing fresh air. Artists are just built differently and not in a bad way, but in a way that supports change and creativity, when in most neighborhoods change and creativity are frowned upon.
B.) MSM wasn't built on an old rail yard or in an area where there wasn't a community already existing. It was built next to one of oldest universities in America (CUA), at a Metro stop (Brookland), and in a neighborhood with single family homes that have front and back yards with huge oak trees and a demographic of people that only have the best of intentions for their community. All in D.C., only 10 minutes away from the Capitol Building!
C.) The activation of the Farmers Market, free dancing and music every Thursday and Friday, open art studio nights every third Thursday of the month, special events in the Arts Walk, free public fitness classes and now Union Kitchen is coming next year. MSM is really becoming the anchor of this community!
How has MSM influenced the shape of Brookland?
Well because of this development, Brookland has found that their secret is now out of the bag. Homes that were selling in the upper $300Ks are now going for close to $1 million. And this is all because of a development that listened to the home owners of the neighborhoods, the business owners, and the community leaders.
Brookland wanted to preserve the neighborhood as they built it, and we wouldn't want it any other way. However, we had to let the cat out of the bag and now this community is even more wonderful. Now, Brookland, Edgewood and CUA are seeing new business come in and giving opportunities for new jobs to the people living in and around MSM. They are also seeing a lot more food options (and soon retail, I'm sure).
What's it like to work for Bozzuto?
My father works in the industry and has for many years. He begged me not to take a property management position when I first started over 14 years ago. He said that I was crazy, but I never was one to listen to my dad! After my first day on the job with Bozzuto, I called him and said, "I think I've landed a job with a cult or something, these people are some of the nicest people I've ever met".
I said this because what Bozzuto preaches as their top notch culture isn't anything compared to actually experiencing it. The reason why Bozzuto is so great isn't because they pay well or they have the best insurance or because they start you off with good vacation time. It's because of the people they hire. The people within this organization are the most passionate, compassionate individuals I have ever had the pleasure of knowing. They really care about their team of people and communities they are building.
Are there any upcoming, exciting plans at MSM that you can share with us?
Yes, always something new going on at MSM! We have Hälsa who is currently building out their space to open this fall/winter. Halsa will be located two doors down from &pizza in the Portland Flats building. Halsa carries prepared nutrient-dense dishes full of fresh ingredients that are sourced from local farmers and thoughtfully plated in a fast casual setting.
We also have Union Kitchen coming to MSM who originally was out of NoMa. Union Kitchen will bring a festival to MSM the first Saturday of each month from 3-9pm, starting next year. The festival will be food-focused with bands and a beer garden at every event.
What's the MSM team like?
The MSM team is a mixed bag of very talented/educated individuals that all have talents very different than the next, but all want to work hard and do the right thing. We are purposefully hired this way, because the needs of this community are very much fluid. What I mean by that is that there is always something going on, and due to its size and amount of residents and programing, we need to make sure we always have the right team in place to attack the task at hand.
What most people don't know is that there isn't one person on our staff that does just one job. It is unbelievable the amount of work it takes to run a community like MSM and every team member does that it takes to make sure this place is as well-oiled as possible.
What's one of your favorite stories or interesting experiences that you've had with a satisfied resident at MSM?
My favorite stories from a satisfied resident always involves a resident that was completely unsatisfied (at first). When dealing with people's homes, you are dealing with something that is extremely personal; we are not managing rental cars here.
Because of that, when issues arise, they typically are not small issues, even if it is something I've found as a challenge 100 different times in my career. This is the first time my resident has experienced it, so I have to address it that way. My favorite part about this job isn't managing a budget, training team members or working with the retailers; rather, it's being a problem solver. Taking a resident's challenge, obtaining the root of the issue and solving it. That win is what keeps me going.