Mix it Up: Diverse Dining Options Near Monroe Street Market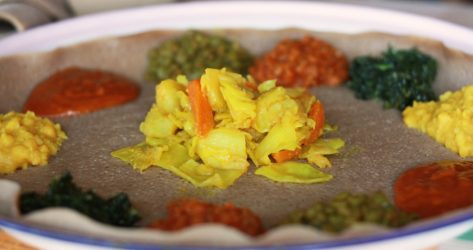 When you live in Monroe Street Market, you know you could live off top-notch pizza, sandwiches, and burgers every day…the neighborhood is full of gems like Little Ricky's, &Pizza, and Brookland's Finest.
But we'd argue the best part of living here is you're not limited to all-American foods in the Brookland nabe – there's plenty of diverse dining options near Monroe Street Market; you'll be glad you chose to mix it up. Check them out below:
Askale Cafe (3629 12th St NE)
Ethiopian
Not only Askale's coffee superb, but their menu is full of delicious (and fun to pronounce) items like Che-che-be-sa, a carb lover's dream. It's composed of torn flatbread that's toasted to perfection with clarified butter. The Foule (fava beans) gets rave reviews – they're a savory breakfast treat buzzing with jalepenos and spiced butter. If you've never tried Ethiopian food before, it's time!
Silvestre Kitchen (3000 12th St NE)
Mexican/Latin American
Go ahead – order a full succulent roast chicken. (Don't forget the hot sauce!) While you're at it, throw in some fried crispy yucca and plantains. They're vegetables, right? We're all about a balanced diet, and Silvestre has all of the makings of a satisfying Mexican food experience on the east coast. If you're from the west coast and constantly lament the loss of your favorite taco truck, head to Silvestre. You won't be disappointed.
Halsa (655 Michigan Ave Ne)
Globally Inspired/Locally Sourced
OK, so maybe this isn't a specific ethnic food joint – but Halsa is the newest, trendiest thing to hit Monroe Street Market in a while. And you can't beat organic, globally-inspired food, right? It's a little piece of hipster Brooklyn in Brookland. The menu isn't posted online yet, but Yelpers have already reviewed a slew of recipes, including tasty chicken sausage, herb lentil mushroom meatballs, maple-glazed pork belly benedict, and of course, the "new kale" – rainbow chard. We recommend the Sunday Fun Day brunch. Get there just before 11am.
Salt and Pepper Grill (2632 Georgia Ave NW)
Indian/Pakistani
What this gem-in-the-wall lacks in atmosphere, it makes up for with freshly-made samosas, lamb rogan josh, and of course, chicken tikka masala. If you're looking for a quick bite of Indian comfort food, Salt and Pepper Grill is the go-to spot. Even better, order in and enjoy in the comfort of your own place – it won't take long; Monroe Street Market's just a little over a mile away.
Rustik Tavern (84 T St NW)
Italian/Mediterranean
OK, so you might argue that any pizza place could fit the "Italian" category, but does every Italian pizza spot wood-fire their pizza crust to charred perfection? Or pizza topped with the ever popular oil-poached ahi, black olives, watercress, and a deeply satisfying salty caper anchovy sauce? How about fresh clams stuffed with rice, figs, parsley, dill, and peppers? We thought not. Make your way over to Rustik Tavern, and dine in – the atmosphere is perfectly suited for a date night.
That's five great diverse dining options near Monroe Street Market – and we haven't even covered them all. Even if you're a picky eater, you're sure to find something you'll enjoy. Our recommendation? Be an adventurous eater tonight, and take advantage of everything the Brookland neighborhood has to offer – dine out (or in!) at one of these spots. We'll see you there.
Image: Flickr