How to Host The Perfect Dinner Party at Monroe Street Market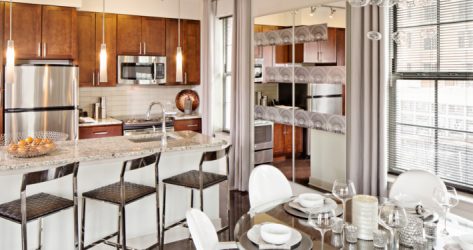 Who doesn't like a dinner party? A good dinner party; one that's full of good food, good conversation, and all in a very comfortable atmosphere – really can't be beat. Monroe Street Market apartments are designed with your social life in mind; with a super open layout, so you can focus on enjoying your guests, even when you're throwing apps into the oven. Here's how to host the perfect dinner party at Monroe Street Market:
1) Plan in Advance
The worst thing you could do is wait until the last minute to plan a dinner party – even if you're kind of person who works well under pressure. You're bound to overlook the small things that make a dinner party stand out, and you'll be more stressed at the actual event, which has an effect on the mood of the party. Plan things in advance, scope out the stores you'll want to stop by, and do this all at least a week beforehand.
2) Gather a Good Group
One of the most awkward things you can do is invite a bunch of people from different parts of life who don't know each other at all into one room. Of course, this can work if you're a social maven or have friends who are especially social, but your best bet is to invite your closest friends, preferably those who have met previously. It will make the whole evening a lot less stressful.
3) Start With Drinks and Apps
First things first: start a bar cart. If you don't have one, get one. They're classy, beautiful, and even if you don't drink, they're great for holding soda and water in style. As for apps, start with simple hors devours, and let people mingle while noshing on olives, cheese, crackers, or pretzels; whatever is easy to grab and enjoy without involving too much attention. Bonus: appetizers buy you time to finish up creating the main course. Speaking of which…
4) Le Menu
Don't make it five courses unless you're a professional chef. The last thing you want to do is get stuck in the kitchen while everyone sits in silence waiting for the next course. Create a couple family-style dishes for the table – whether it's chicken carbonara or steak, it should be easy to serve – and make sure you serve up a few different options for sides, including a veggie and a starch. Something as simple as a roll of french bread is great (Is it cheesy to order &pizza and serve it on fancy plates?). Helpful hint: this is where knowing your guests food allergies/preferences comes in handy. Try asking when you invite.
5) Don't Sweat the Centerpiece
This isn't a wedding or even a holiday – giant bouquets just get in the way. Really, you don't need much. Your table's going to be covered in food, right?
6) Great Playlist
Good music can instantly change the atmosphere of a room, and it's easy to create a playlist on Spotify or just choose a Pandora channel. Think about what kind of vibe you want to create, and have a couple on hand for different parts of the night – too upbeat can feel a little strange when you're all sitting down eating, but it's great for afterward when you're having a little bubbly.
7) Wait to Wash
No need to rush to clean the dishes as soon as they're cleared (even the pots/pans if you can) – just throw them inside your energy-efficient washer, and start it now or later. If you have to leave everything in your sink, it's not a huge deal. Go and enjoy yourself now – tomorrow, you clean! (Or hire a cleaning service. Either way.)
What are you waiting for? If you aren't already planning a dinner party, you should be. Whether it's a Facebook invite or an old-school note sent via snail mail, an invitation to a dinner party is sure to be met with excitement! If you haven't yet moved in to Monroe Street Market, we would love to speak with you today. Contact us today!
Image: Flickr