"Little Rome:" Exploring Brookland History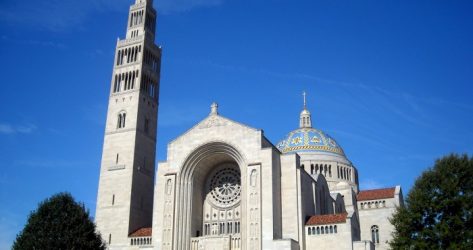 Whether you grew up in Brookland or just moved into Monroe Street Market's famed neighborhood, there's plenty of history to uncover. Often deemed "Little Rome," this neighborhood is known for wide streets canopied with foliage and a slower pace. Don't be fooled, though – the undercurrent is moving quickly toward development, and newcomers are flocking to the area. Spend a day exploring Brookland history – here are some great spots to check out:
Lincoln's Cottage (3700 North Capitol Street NW)
This is one U.S. President who's been a popular Hollywood subject recently (and was even portrayed as a vampire slayer), and his home is worth a look. Lincoln lived in this Gothic Revival-style cottage during the Civil War years, and commuted to the White House. His hat's famous, but have you seen his slippers?
Basilica of the National Shrine of the Immaculate Conception (400 Michigan Avenue NE)
Popes and even Mother Teresa visited "America's Catholic Church." Its Byzantine-Romanesque style will have you feeling like you're in Italy. It's truly impressive, and huge, housing over 70 oratories and chapels. You can see many of the exhibits online, but it's a completely different experience to wander through the halls. If you'd like to participate in mass or days of prayer, see their events calendar.
Catholic University (620 Michigan Avenue NE)
The history of this sprawling, history-rich university dates back to the 1880s. What was once tobacco farmland is now teeming with architecturally interesting buildings and carefully curated grounds and gardens.
Franciscan Monastery of the Holy Land in America(1400 Quincy Street NW)
This isn't one of those abandoned historical points – the monastery is very much alive and functioning, with special events, mass, and pilgrimages occurring regularly. They call themselves an "Oasis of Peace," which, let's face it – is tough to find in the country's capitol.
Pope John Paul II Cultural Center(3900 Harewood Road NE)
"Ornate" is an apt term to describe some of the relics from saints and martyrs here – and you might even meet one of the Knights of Columbus if you're lucky. If you're even slightly interested in the history of the late St. John Paul II, head to their permanent exhibit. It's engaging, beautifully designed, and interesting.
After a morning of touring every Brookland historical site, you're bound to get hungry. Pack a lunch and rest on a bench for some interesting people-watching, or just head to Menomale (2711 12th Street NE) afterwards for authentic Italian pizza. After, all, when in "Little Rome," do as the Brooklanders do, right? If you're still considering an apartment move to Monroe Street Market, contact us today! We'll talk you through what you can expect when you join our community.
Image: Flickr