The Most Underrated Parks Near Monroe Street Market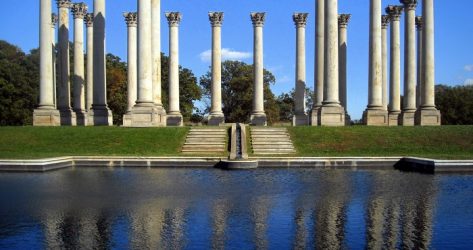 When it comes to great parks in Washington D.C., everybody already knows the National Mall and Rock Creek Park make for a fantastic day out. But where else can you go if you want to get your dose of greenery, sun, trees, and flowers in D.C.? Luckily, there are so many other, less heralded, parks in Washington D.C. that are worth knowing about and visiting. That's why we have put together a list of the most underrated parks near Monroe Street Market that you might not know about, but definitely need to visit!
United States National Arboretum
Perhaps the biggest and most well known park on the list, the U.S. National Arboretum is still underrated by both locals and tourists. It has over 450 acres of plants, trees, and flowers that you can't see anywhere else in Washington D.C., making it unmissable if you are interested in flora even a little bit. Even that isn't particularly your thing there is plenty else to explore including the abandoned columns of the old National Capital, an enormous koi pond, and long hiking trails through the woods.
Theodore Roosevelt Island National Monument
Want to pretend that Huckleberry Finn or just feel like you've escaped the city? Roosevelt Island is the place for you. Despite being able to check out the Georgetown skyline from the park, you still have a chance to catch a glimpse of a deer or variety of other animals that call the park home.With 2.5 miles of hiking trails through lush vegetation, flowing fountains, and a full bronze statue of Teddy Roosevelt himself in the center of it all, Roosevelt Island makes for a fun and unique afternoon out.
Even though it's just 15 miles from Monroe Street Market, Great Falls Park feel like it's a world apart. Great Falls Park has a unique combination of natural beauty and history sights for both the nature lover and the history buff. Plus the star of the show, the falls themselves, truly live up to their name. If spending your day watching the Potomac rush over the jagged rocks at Mather Gorge exploring 18th century locks, or hiking/biking around 800 acres of greenery sounds like fun, Great Falls Park is the place for you.
In our biased opinion, Washington D.C. is one of the greatest cities in the world and has some of the greatest parks in the world as well. When you live at Monroe Street Market, you are within striking distance of all these beautiful parks as well as shopping, dining, and everything else Washington D.C. has to offer. Although you might not know about these parks yet, they are sure to become firm favorites soon.
Image Source: Wikipedia