Five Ways to Make New Friends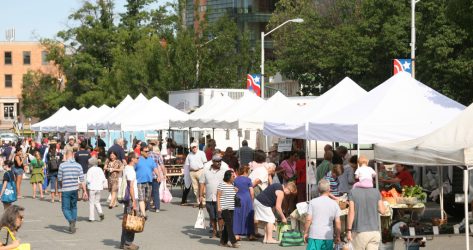 Moving can be a pain, but the most challenging part of it actually comes after the physical move—making new friends. At Monroe Street Market, we are fortunate enough to be surrounded by two happening neighborhoods, Brookland and Edgewood, two trendy neighborhoods in DC where there's always something going on and like-minded people to meet. Here are five ways to make new friends near MSM.
Throw a Block Party
For the social butterfly, throwing an apartment-warming "block party" is the perfect way to meet your neighbors. Rent one of the community event spaces at Monroe Street Market, spread the word and treat your new neighbors to a celebratory bash. If you're not a fan of hosting, head to one of Monroe Street Market's many common areas check out what's going on. Join up with a group to play billiards or bring along a book to one of the lounges and see who you run into.
Release Your Inner Art-Lover
Located right in your backyard, the the Arts Walk is a fabulous place to purchase artwork and meet the artists. Additionally, the Arts Walk hosts weekly social events including live music on Thursday evenings and dance events on Fridays. Every Third Thursday of the month, mingle with fellow art lovers at the Third Thursday Artist Open House.
Get Moving
One of the most common places to meet new friends is the gym. With 24-hour fitness centers, complete with yoga studios and cardio theaters, you have no shortage of workout options. Also, consider dropping in for a great dance class at Dance Place, conveniently located less than half a mile away from Monroe Street Market.
Join a Neighborhood Club or Attend a Community Event
Following the Brookland Bridge blog is a great way to keep your finger on the pulse of what's happening in the neighborhood. There, you will find updates on a variety of topics; everything from neighborhood events to development news. If you're trying to find the right meet-up or club to join, this is a great place to start. For example, the Greater Brookland Gardening Club—a group that brings gardening enthusiasts together and helps support public green spaces—is regularly featured on the blog under "Gardening." You can also find information on local LGBT events, connect with pet lovers, photographers, and enthusiasts of all varieties.
Similarly, the Brookland Avenue and Life on the Edgewood blogs are excellent resources for nearby activities and events.
Give Back
There's no better way to meet people and form strong friendships than by getting involved in a cause you care about. There are dozens of organizations in DC that are seeking volunteers, and plenty of ways to get involved. And with two tight-knit communities surrounding Monroe Street Market, it's easy to find local volunteer opportunities. Donate your time at the nearby VA hospital and help support our veterans, or consider volunteering at Capital Area Food Bank, which provides a shuttle service to their facility leaving from the Brookland/CUA Metro. See our other post on volunteering in DC for other options! Whichever volunteer opportunity you choose, you are sure to form long-lasting relationships.
P.S. If you are considering a move to Monroe Street Market, but haven't yet decided, all of these activities are a great way to explore and get to know our local community. Contact us for more information and to join our artistic, elegant, eclectic, and sophisticated community.
Image: Flickr