Live Local with On Site Retail at Monroe Street Market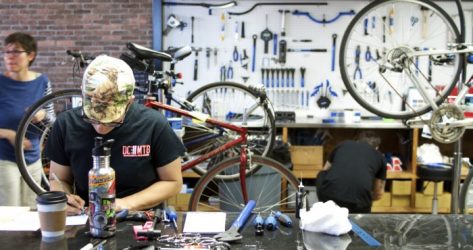 While it's great to have all of Washington D.C. at your fingertips when you live at Monroe Street Market, sometimes you just don't feel like venturing very far from your luxurious apartment. Luckily for you, there is tons of on site retail for you to explore from bookstores to bike stores. That is why we have decided to profile three of our fantastic on site retail opportunities for you!
Hälsa
Hälsa is setting out to transform the way you think of fast food. Hälsa is the Swedish word for health, so instead of double burgers and greasy fries, they offer seasonal, fresh, and healthy dishes, such as Mahi Mahi with kimchee risotto and rainbow chard. They also have homemade soups, bone broths, and smoothies that change according to the seasons and what's fresh. If you're looking for nutritious, local, and, above all, delicious fast food just steps from your Monroe Street Market home, Hälsa is the place for you.
The Bike Rack
Voted one of America's best bike shops and the best bike shop Washington D.C. in 2014, The Bike Rack is a paradise for anyone who likes bicycles even a little bit. Providing the highest quality bicycles, parts, and accessories, The Bike Rack is independently run by a community of passionate and caring cyclists who really know their stuff. They just opened this April at Monroe Street Market but they're aiming to hit the ground running (or cycling in this case) with lots of events, weekend rides, and teams to get involved with.
Filter
Who doesn't love an exquisite cup of coffee? Filter, which shares a space with The Bike Rack, aims to bring truly amazing coffee to Washington D.C. All of their coffee is roasted locally by Ceremony Coffee in Annapolis, MD and designed to delight everyone from coffee newbies to seasoned coffee veterans. At Filter, you can find a huge variety single-origin coffees, french-pressed coffees, and any espresso-based drink you can think of. They too opened this April, so get down there before the word gets out on one of the best coffeehouses around.
Sticking close to home can be just as exciting as exploring the city when you live at Monroe Street Market with all of these fantastic on site retail opportunities. Contact us today to find out more about joining our ever-growing, eclectic, and exciting community.
Image Source: The Bike Rack DC