Cool Day Trips Near Washington DC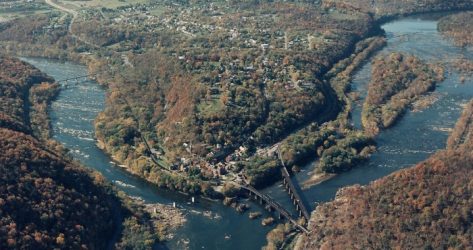 Washington DC residents are in a perfect location to take advantage of their location right in the middle of the East Coast, with a wide variety of day trips up and down this side of the country that other cities could only dream about. History, natural beauty, bustling cities, and charming towns are all within striking distance of your luxury apartment at Monroe Street Market. Here are some of our favorite day trips near Washington DC.
For the History Buff: Harpers Ferry, WV (90 Minutes Away)
If you love Civil War-Era history in a beautiful setting at the meeting of the Potomac and Shenandoah Rivers, Harpers Ferry is the place for you. Antietam National Battlefield is just minutes from this charming town already full of Civil War reenactments. Plus, you can get the train directly there from Union Station in an hour.
What to do there:
For the Nature Lover: Shenandoah National Park, VA (100 Minutes Away)
Even though this highly underrated national park is only 75 miles from Washington DC, it feels like an entire world away. The peaks of the Blue Ridge Mountains are complemented by quiet woodland, rushing waterfalls, and unbelievable views of the valley. Visiting this park is simply a must if you want to escape the city and get back to nature.
What to do there:
For the Foodie: Richmond, VA (110 Minutes Away)
Richmond's food scene has only getting better and better as of late. Celebrity chefs Bryan Voltaggio and Mike Isabella have both recently opened restaurants here and Frommer's named it one of 2014's best destinations for food and drink. Richmond is becoming a hub for craft brewing as well for all those beer lovers out there.
What to do there:
For the Ambitious: Rehoboth Beach, DE (140 Minutes Away)
Rehoboth Beach isn't exactly next door, but it's achievable for an ambitious daytripper (or you can just make a weekend out of the trip instead). Rehoboth Beach is all about relaxing on the white sandy beach and soaking up the sun. Plus after you're done at the beach, there is a charming boardwalk to explore with a haunted house and truly fantastic caramel popcorn.
What to do there:
For the Lazy: Alexandria, VA (20 Minutes Away)
This is one day trip that you can probably do in less than a day. Alexandria is so close it hardly even counts as being outside DC, and you can even take the Metro there. Even though it isn't very far away, Alexandria's Old Town is full of original 18th and 19th century buildings that are home to vibrant museums, shops, restaurant, bars, and more.
What to do there:
There is no doubt that there are some truly spectacular day trips near Washington DC and your home at Monroe Street Market. If you're interested in living in the center of our charming Brookland community, within striking distance of all these destinations, contact us at Monroe Street Market today to find out more or take a tour.
Image Source: Flickr