Brookland Cafe: Good Eats Near Monroe Street Market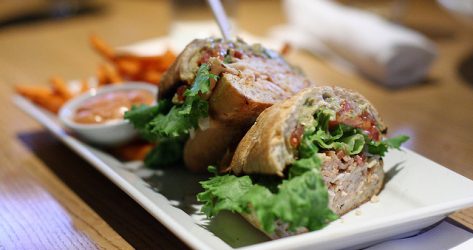 Also known as the Bcafe, the Brookland Cafe is a quaint and appealing neighborhood restaurant nestled between several universities in Northwest DC. A striking and beautiful mural decorates the 12th Street side of the cafe, signaling its commitment both to the arts and to community issues. On the inside, its charming and modern decor offer an nice backdrop for a lunch meeting, drinks with friends from Monroe Street Market, or a first date.
Specializing in Southern food with a Caribbean flair, the menu is friendly to vegans and vegetarians, as well as carnivores. Favorites among Yelp reviewers include the mock chicken sandwich served with golden sweet potato fries, as well as spicy-sweet Caribbean wings. Desserts are a particular favorite among Bcafe regulars, with sweet potato and red velvet cakes available in both vegan and traditional varieties.
Don't miss the weekday happy hour specials, which offer an array of small plates and a drink for less than you'd pay for a fast food combo!
Brookland Cafe
3740 12th St NE
Washington, DC 20017
(202) 635-6307
www.thebrooklandcafe.com