Take a Taste of Authentic French Baked Goods at Panorama Bakery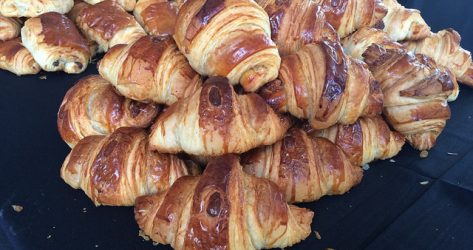 Panorama Bakery in Union Market strives to bring the taste of Paris to folks living in Washington, DC, which means that when you visit this popular bakery, you'll find it chock-full of French favorites. Pick up a buttery, flakey croissant on your way to the office in the morning, and pair it with a shot of espresso for the full French effect. Or, if your'e planning an elegant meal at home, stop by after work to pick up a warm, crusty baguette to enjoy with dinner.
The bakery's display cases are filled with sweet treats like the jewel-toned macarons stacked into small pyramids, miniature fruit tarts arranged in rows, and crumbly madeleine cookies lined up in baskets. Panorama Bakery also serves up a few made-to-order snacks, like warm crepes filled with your choice of fresh fruit, chantilly cream, and sugar. Whatever you choose, you can be assured that this bakery uses authentic French recipes and traditional techniques to produce all of its goods.