Warm Up With Steaming Bowls of Soup at Pho 12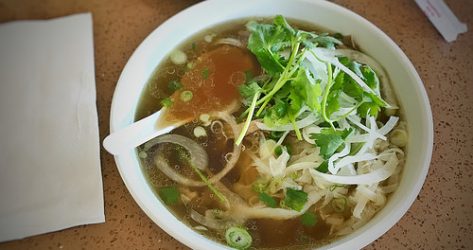 If you're looking for authentic Vietnamese food in the Brookland neighborhood of Washington D.C., check out Pho 12. Pho 12 is a newly-opened restaurant serving the ever-popular Vietnamese soup specialty. Located less than 10 minutes from Monroe Street Market, Pho 12 is already growing a loyal following among locals who crave authentic Asian food in their neighborhood.
Guests can build their perfect pho order by selecting from a choice of meats, which includes steak, chicken, seafood and even tripe, and the classic pho ingredients of onion, cilantro, bean sprouts, herbs and jalapenos. If you're feeling extra hungry or extra indecisive, you can order the Pho Twelve Special, which comes with all 12 options of meat toppings in one. If you're not in the mood for soup, you'll be happy to know that Pho 12 has lots of other menu options, like steamed rice dishes and rice vermicelli bowls. There are also classic appetizers like egg rolls, spring rolls and skewered meat.