Third Thursdays in Brookland Brings Carnival to the Arts Walk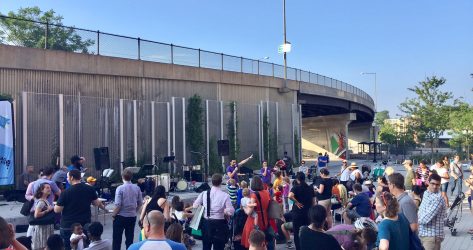 Summertime is back! With the return of warm weather, comes the much anticipated arrival of Third Thursdays in Brookland at Monroe Street Market.
Each month, the Arts Walk comes alive from 5 PM – 8 PM. June's event brought an extended evening of entertainment, open artist studios, family-friendly carnival activities and a live jazz performance from The Rumba Club. The group's soulful percussion filled the air all night long, welcoming crowds of families who joined in on the fun.
Meet up with friends or bring your family to enjoy great food from local vendors, live music and plenty of free outdoor entertainment! Join us for the next Third Thursday event on July 20th, which will feature live country music from Jack Gregori.