Grab Brunch With Friends at Brookland Pint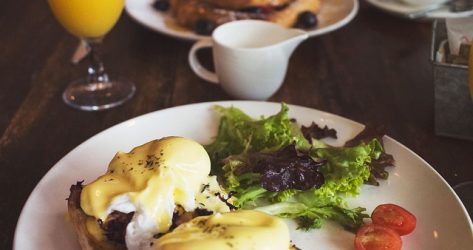 Even the brunch "classics" at Brookland Pint are anything but traditional. The chef at this gastropub likes to push the limits of traditional cuisine, incorporating elements from all different cultures into one menu of perfectly eclectic contemporary fare, so expect the unexpected when you brunch here on Saturday or Sunday morning.
Although you will see some true staples on the menu, like chocolate chip pancakes, most of the menu items are more inventive. For instance, the curry tofu and mushroom enchiladas feature butternut squash and kale with avocado, cilantro sour cream, and guajillo chile sauce on top. The jambalaya grits bring the New Orleans vibes with sausage and shrimp over poached eggs, all smothered in a Creole-inspired sauce. The Diner Burger boasts an all-beef patty topped with an over-easy egg, crispy bacon, and cheddar cheese. Enjoy some hot tea or organic Mexican coffee with your meal at Brookland Pint.