Meet Your Crew for Brunch at The Caged Bird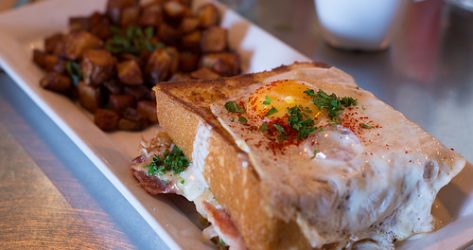 The Caged Bird made its grand debut this summer with a list of artisan cocktails and creative bites. Swing by for the happy hour to grab a cocktail and try some of the elevated bar snacks, like the wings tossed in jerk sauce, the Cajun-style curly fries, or the signature mac and cheese—which tends to sell out.
The mac and cheese is also available during brunch, which runs from 11 a.m. to 5 p.m. on weekends. Pay a flat rate and head to the buffet to load up on the mac and cheese, along with French toast infused with cinnamon-sugar, Cajun breakfast potatoes tossed with grilled onions and peppers, and even jerk candied bacon. You can also skip the buffet and order an entree a la carte, such as the chicken and waffle sprinkled with powdered sugar.