Brookland Pint: Second Annual Crab Fest
August 26, 2017 - August 26, 2017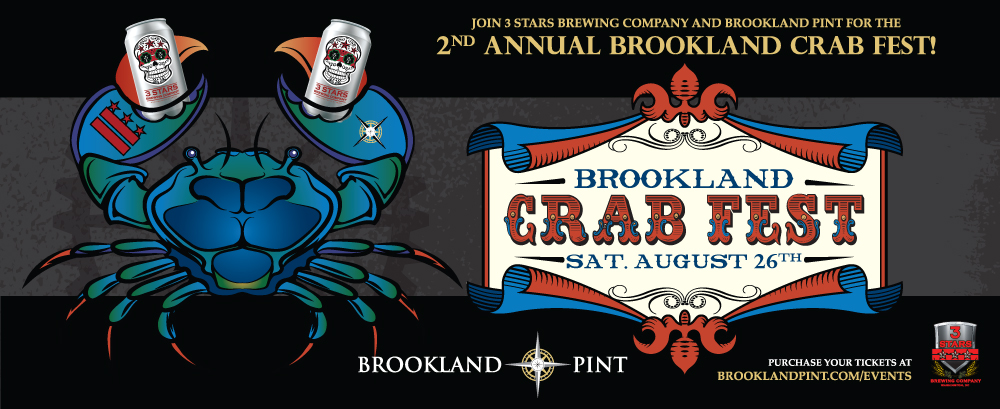 Brookland Pint: Second Annual Crab Fest
Join 3 Stars Brewing Company and Brookland Pint for The Brookland Crab Fest! If you have been in the DMV long enough, you know that summer is never truly here until you have crushed some crabs! Brookland Pint will be opening their patio for an amazing event with great local craft beer and locally sourced Maryland Blue Crabs! $55 affords you all the crabs you can eat in a 3-hour window, and a 3 Stars beer!
The main attraction for the event will be Maryland Blue Crab. To guarantee that you have the freshest crab possible, the restaurant will be steaming them in front of you throughout your session! All crabs will be prepared with Old Bay and served with roasted potatoes, corn on the cob and chips. Each session will start with a bushel of crab per table which will be continuously replenished throughout your stay.
Beer: In addition to Brookland Pint's normal draft list of 24 beers, they will have 3 Stars canned beers available.
Time Slots: The restaurant will have two time slots available in 3-hour increments.  Click here to purchase tickets.  Please be sure that you are reserving the correct time slot. Tickets are only good for the allotted time slot so grab the one that is perfect for you!
Seating: Each table seats 6 people for everyone's maximum enjoyment. You will be given access to your table(s) 10 minutes prior to the beginning of your time slot so everyone will be able to get settled in and comfy!
Weather: Regard the forecast with a grain of salt, and remember there is always a chance for storms. We will evaluate the weather forecast leading up to the event, and will tent the patio if weather dictates. This event is rain or shine!
Families: The top half of the patio will be available for families to eat crabs with the kiddos, but not as part of the ticketed event. To make reservations for a family table please contact the restaurant at info@brooklandpint.com.