15 April 2019
9:30 am - 11:00 am
Rise & Rhyme at Busboys and Poets
April 15, 2019 - April 15, 2019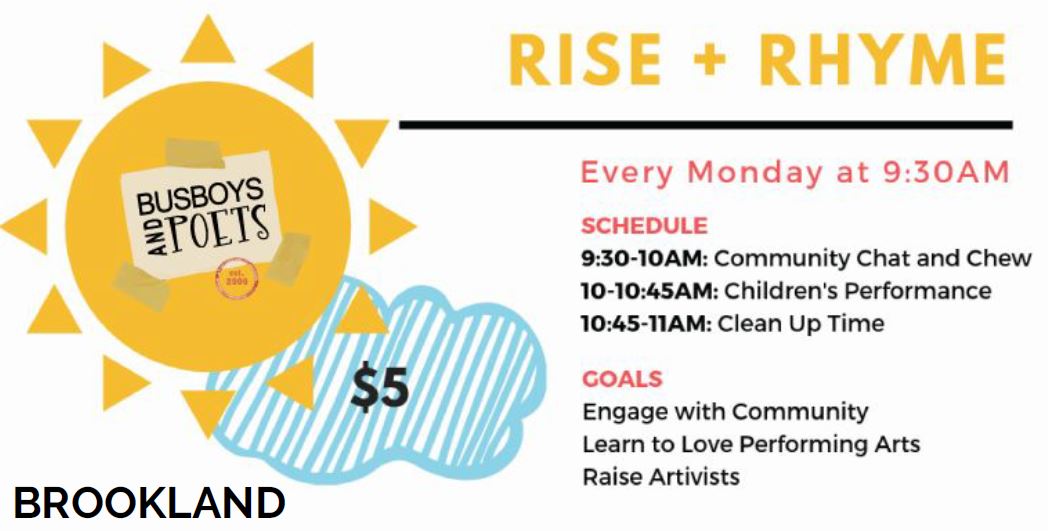 Rise & Rhyme at Busboys and Poets
Rise and Rhyme is a weekly morning storytelling and performance series for children ages 5 and under with the goals of teaching children to engage with their community, learn to love performing and become rising artivists!
Every Monday morning, chat & chew with fellow community neighbors starting at 9:30 AM, followed by a children's performance from 10:00 – 10:45 AM.

Admission is $5 per child and additional donations for the performers are appreciated. Plus, enjoy 10% off all kids books during Rise & Rhyme.
Aprils Line up:
April 1- Music2LittleEars
April 8-Oh Susannah!
April 15- Frolic The Fox
April 22- Oh Susannah!
April 29- Marsha Goodman