Le Diplomate: A Taste of France Delivered to Your Door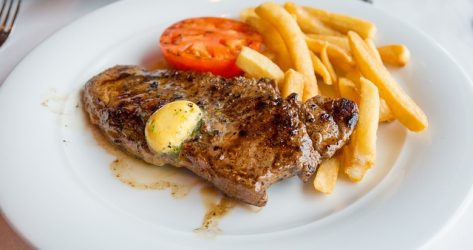 Hungry? You don't need to leave your apartment for a delicious dinner option, even if you aren't in the mood to cook for yourself. Le Diplomate offers delivery via Caviar or DoorDash so you can order the food of your choice from the couch. You're most likely scrolling through your phone anyway, so why not get something to eat in the process? 
Whether you need dinner, snacks, or lunch for tomorrow's workday, you'll find something tasty at Le Diplomate. Enjoy some customer favorites, like steak frites, warm shrimp salad, or even creme brulee! Consider adding a pain au chocolat for dessert (or breakfast tomorrow) or a selection from their regional French cheese offerings for an extra treat. 
If you've got a few more mouths to feed, Le Diplomate's burger Americaine box will make family dinner easy. With ingredients and helpful instructions, you can put together four of their popular burgers Americaine alongside dilly potato salad. It's all the fun of a cookout without the cleanup—or the cooking.
Be sure to finish off your meal with a soda or pot de creme for the full Le Diplomate experience. All the accouterments you need will be at your door in no time!