Korean Barbecue Is on the Menu at Iron Age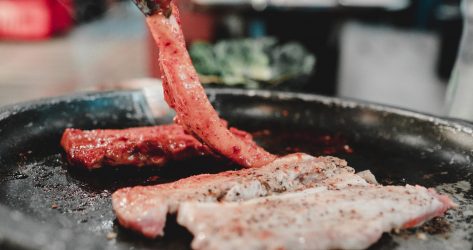 If it's been awhile since you've been out to eat, dip a toe in the water at Iron Age. This newly opened spot isn't offering delivery or takeout for one very specific reason: you can only get the true Korean barbecue experience in-house. That includes K-Pop pumping through the speakers, music video splashed across the walls, and all-you-can-eat, self-barbecued meats.
Sit down around the tabletop grill and order as many types of meat as you can eat from the seemingly endless menu. Try the bulgogi, the pork belly, and the spicy pork with sides such as fermented veggies, kimchi, and salad. Iron Age is taking extra precautions right now to keep its customers safe, including temperature checks, hand sanitizing, and mask-wearing. Reservations are accepted, but not necessary to nab a table at Iron Age.