Craving Asian Fusion Fare at Monroe Street Market? Head to Bar & Lounge 54!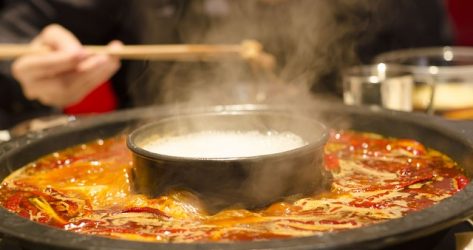 Who doesn't love trying new spots? Add Bar & Lounge 54 to your list! Open since July, this new Asian fusion spot has been captivating diners one meal at a time. They're earning rave reviews for their unique and authentic flavors, as well as the friendly and welcoming service.
To start, order the grape leaves stuffed with grilled beef and drizzled with sweet chili sauce, it's a delight. Or if you're looking for something a little more veggie-heavy, try the papaya salad. For entrees, the pho seems to be the number one crowd-pleaser. Served the traditional way with a flavorful broth and delicious noodles, you then choose what protein you'd like to complete the dish. Options include standards like shrimp or chicken, to more fusion options like meatball. Each bowl is served with all the toppings like bean sprouts, basil, spicy fresh jalapenos, and lime to spritz. No matter what you order, it'll be packed with delicious flavors!