Catch The Sinners and Saints Saturday Showcase This Saturday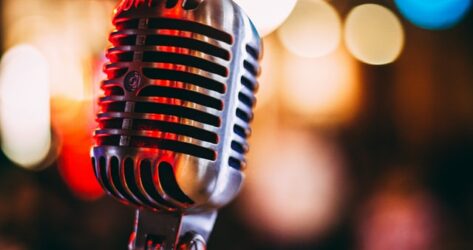 Break out of the dinner and a movie rut and do something more creative for date night this week at The Sinners and Saints Saturday Showcase. Cafe Saint-Ex hosts "D.C.'s best comedy show" every Saturday night with limited tickets available at donate-what-you-can pricing—so it's an affordable date option, too.
The cafe joins forces with Capital Laughs to put on the weekly show. It's a group of local stand-up comics who have connections to other lauded funny people. So you can trust that the talented comedians they bring to Cafe Saint-Ex each week will truly make you laugh out loud. Grab your ticket online and head downstairs to the cafe before the show begins at 8 p.m. You'll want to allow enough time to grab a seat, grab a drink, and grab some food, too. Then settle in for 90 minutes of laughs brought to you by an ever-rotating roster of stand-up comics from around the D.C. region and beyond. Tickets do tend to sell out, so make sure to RSVP early.